Cyclist sport and tours in the Eifel area
Special offers for groups from 10 people.
Amidst the unique landscape of the Eifel and Ardennen area, are the high plateaus and its river valleys of the Our, lays Irsen and Prüm (Heights between 200 m and 540 m) which is perfect for cyclers.
The region lies amid the German-Luxemburg nature park and strikes the border of the German-Belgium nature park.
The training routs (from 40 km up to 100 km) pass both sides of the river Our through the German-Belgium-Luxemburg border triangle.
The majority of the routs are quiet and are side roads with very little traffic. Cycle through the beautiful scenery of the Eifel-Ardennen countryside, its hills and dales are a challenge for all cyclists.
Our full board offer for 4 or 7 days (including day of arrival and departure) can also be individually calculated for stays from 3 nights upwards.
Your accommodation in our cosy bungalows for up to 4 or up to 6 people can be booked as required, or when travelling with a caravan, tent or mobile home, pitches can be hired on our campsite from April until November.
Our comfortably furnished bungalows up to 4 people with kitchenette, sitting room, toilet, shower and 2 bedrooms (single beds, one bedroom with bunk beds). Our bungalows up to 6 people are similar with 3 bedrooms (1 bedroom with bunk beds). All bungalows can be booked and occupied as desired.
On your day of arrival we would like to invite you to join us in our restaurant "Parkstübchen" for a welcome!
Detailed routes with information to height and distances in kilometer will be provided for each stage of the program. GPS device can be issued on request.
Begin each day with a delicious breakfast buffet in our restaurant "Parkstübchen" rich on vitamins and carbohydrates.
Our "Vitamin pack" is prepared for you with sufficient drinks to take on your daily tour. Enjoy a tasty and luscious three course meal in the evening.
All bikes can be safely stored in a locked up room. There are also washing machines and dryers available for those who might use them.
Prices
Prices per person depending on the bungalow and length of stay from 153.00 euros.
Ask us – we will send you a specific offer.
Included in price:
3 or 6 Nights including breatfast buffet
"Power Pack" for each day tour
Three or six evening-3 course meals
Welcome drink of your choice
Detailed rout description for eacht tour/Gps device
Lock-up for bikes
Our scale shows a few examples of the altitude levels reached on our routes
Route 57 km – 286 bis 547 Höhenmeter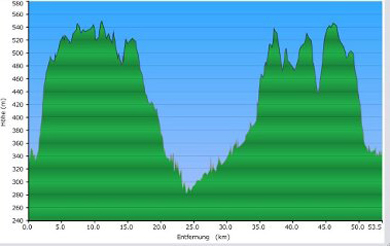 Route 103 km – 164 bis 548 Höhenmeter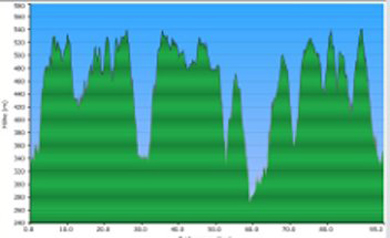 Route 103 km – 282 bis 540 Höhenmeter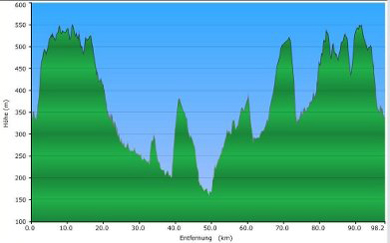 The Cycling- and Marathongroup from Niederlanden