Camping in harmony with nature
The Eifel Ferienpark Prümtal is one of the first award-winning camping sites in Rhineland-Palatinate.
From now on, camper have even more options to choose from when travelling Rhineland-Palatinate or Saarland with tent, caravan or camping van.
Our Ferienpark Prümtal successfully met the requirements for the ECOCAMPING award. Undersecretary of Trade Siegfried Englert presented the coveted awards in Hausbay during the annual general assembly of the "Verband der Campingplatzunternehmer Rheinland-Pfalz und Saarland (VCRS e.V.)". The number of ECOCAMPING camping sites both states has now grown to 28.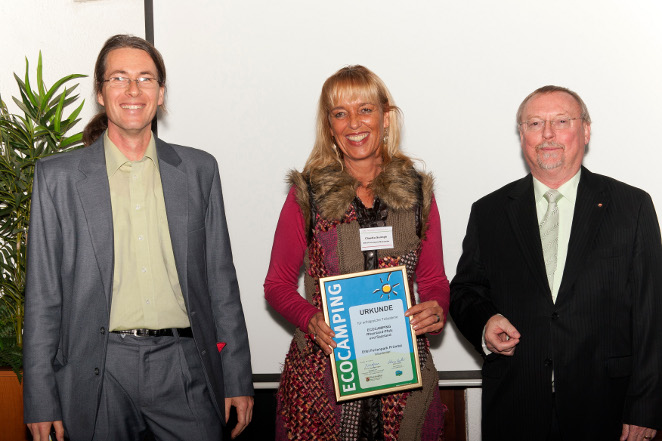 "Rhineland-Palatinate is particularly attractive for campers with its beautiful landscapes and the possibilities of an active holiday, be it hiking, cycling or aquatics. Environmental protection is well compatible with economic success, because it increases efficiency and leads to a better image. Your guests will honor this." said Secretary of State Englert in his congratulations to the award-winning companies.
Tourism has a significant economic importance for Rhineland-Palatinate. With more than 21 million overnight stays and around 200 million daily visitors per year, sales of well over 7 billion euros are achieved, securing around 190,000 jobs. "Camping tourism makes an important contribution to the variety of offers for Rhineland-Palatinate and thus increases tourism performance in the country," said Englert.
The project ECOCAMPING Rhineland-Palatinate and Saarland is funded to 70 percent by the Ministries of the Economy of Rhineland-Palatinate and Saarland and the Ministry of the Environment Rhineland-Palatinate. Project partners are the VCRS, Rheinland-Pfalz Tourismus GmbH and the Tourismus Zentrale Saarland GmbH.